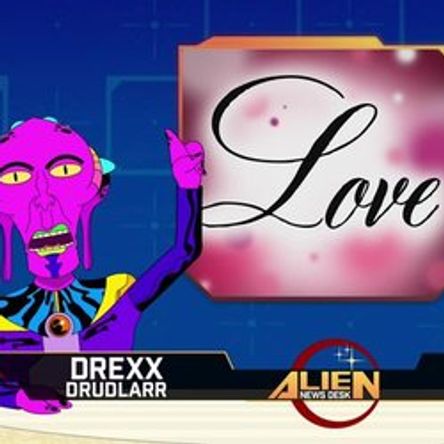 CURRENT NEWS!
Hot off The Pleadian Press! It's The Lateliest and Most Likeliest Greaterest TRUE GNEWS!!!
Read on below! And visit the /news-archive to catch up on our Sci-Fi adventure with important news clips from that thing you call "the past." 
NEW SINGLE! Lead Track From Next Album, "IT'S LOVE."
AND A QUEUE OF NEW ROLL-OUTS AS THE YEAR OF ERIS & FIBONACCI DAWNS
It's finally here! Always and ever behind the scenes HeadEye and Earth Ambassador John Paul DeBard have been tweaking and even twerking away this Year of the Too Two Moon inside both the Earthbound Studio 73 and the orbiting Satellite 73 amassing a mountain of digital files as the next album, EARTH GODS, begins to take shape like so much space gas forming proto-planets and run-on sentences. We've intercepted transmissions of muttering musings about another vinyl LP pressing, and even rumours of a series of 45's, but this much we DO know for certain: the Grand Mothership has uploaded a new digital single from the future album in honor of Earth holiday CYBER MONDAY (AKA 11/28/22, or more accurately 28-11-2022), and you can listen to it NOW!
"It's Love" is HeadEye's anthem of  unconditional universal love: Want love? Give it! And giving it to YOU is a cast of familiar EARTH GIRLS album contributors formulating a new mix.
Lead singers SYLVIA POPICHAK and KIRA LOKAY are back blending their voices with our old friend & one-time Groovy Girl SARAH STOLL, newcomer NATALIE SCHWARTZ, and Music Director Jason E. Hedrington (who also provided the usual dizzying array of synth overdubs). They're ALL together delivering this timely message of hope for humanity who continues to teeter on the edge of oblivion.
EARTH GIRLS drummer Bret Talbert, The Martian Hoo-man, is back with his bombastic delivery, and we're stoked as ether sailors to bring the Seti Alpha String Five onboard.
And most certainly you'll be pleased as protons that Art Director Nate Fehlauer is still at the helm delivering the evolution in HeadEye imagery for the next phase!  
"It's Love" is available NOW! EXCLUSIVELY right here through the website at our /music page. You can stream it for FREE, though you are highly encouraged to pay the pocket change that will help support independent Art and further endeavors into the realm of love and healing humanity. 
OH! BUT WAIT! Oh-ho-ho that's not it! 
First of all we have a B-SIDE as well, and it's no ordinary B-SIDE! This is the first offering from a future COVERS ALBUM in the works, and it's a reimagining of Steve Howe's masterpiece "Mood For A Day" from Yes's FRAGILE. HeadEye and The Seti Alpha Strings take you on a mind meld to the center of your emotions. It's quite the trip! 
"It's Love" marks the first salvo in a whole line-up of upcoming goodies. We're finally dropping a PATREON, our Christmas hero NORTH POLE PANDA is back as a FREE DOWNLOAD for the holidays, and good golly the webcast that got us all through the pandemic is set to relaunch over on Twitch post-haste. Via the Patreon subscription service more singles are on the way, and the multitude of both historical and fresh content there will be a nebula-sized museum to behold. 
The Golden Apple is off and rolling. We're finishing 2022 with a musical evolutionary step, and stepping it up even further for 2023.
Antennaes up! Tune in! Don't miss all that's coming down the digital pipeline as the HeadEye Sci-Fi adventure warps on!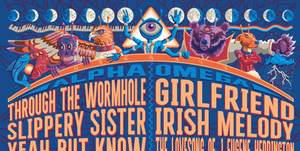 Crew Pix
THE FLIGHT CREW. The folks behind the Singles. 
Check out the FULL CREW and BIOS over at /the-crew
QUOTES
WHAT THEY'RE SAYING ABOUT THE SINGLES
"Yes meets Frank Zappa and Warren Zevon. It's almost as if Rick Wakeman dragged the two of them into the future to write about the social media world we live in today."
                  --Ralph Pagano, VOICES OF THE VALLEY
"So music from outer space sounds like 70's Prog/Pop Todd Rundgren? Wait, that actually makes sense." 
                   --Eric Todd, YFM-Indie Music Promotion 
"The most exciting music I've heard in a long time."
                     --Christopher Shorr, Head of Theater Department, Moravian University
"I started playing it in my office and my coworkers were like 'this sounds like Rush and Chicago and Hall & Oates and Steely Dan and...'"
                      --Sylvia Popichak, Martin Guitar

"Ben-Folds-meets-Todd-Rundgren-meets-Pink-Floyd psychedelic-prog-pop-funk."
                     --Dustin Schoof, dustinschoof.com 
"Jason Hedrington is recording 'PET SOUNDS 2020' over here. He should name this album 'UNMARKETABLE.'" 
                      --Erik Santana, Lead Guitar, Hexting
"It's like Phish and Ben Folds and Little Shop of Horrors had a baby that Zappa babysat."
                       --Sam Beedle, Improv Troupe Synced Up, Touchstone Theater, Sam Beedle's Magical Happy Hour
"Fantastic! Well done! A hint of Todd Rundgren I hear."   
                        --Josh Ogden, Wynnfield Restoration